physical reality devices
performative sculptures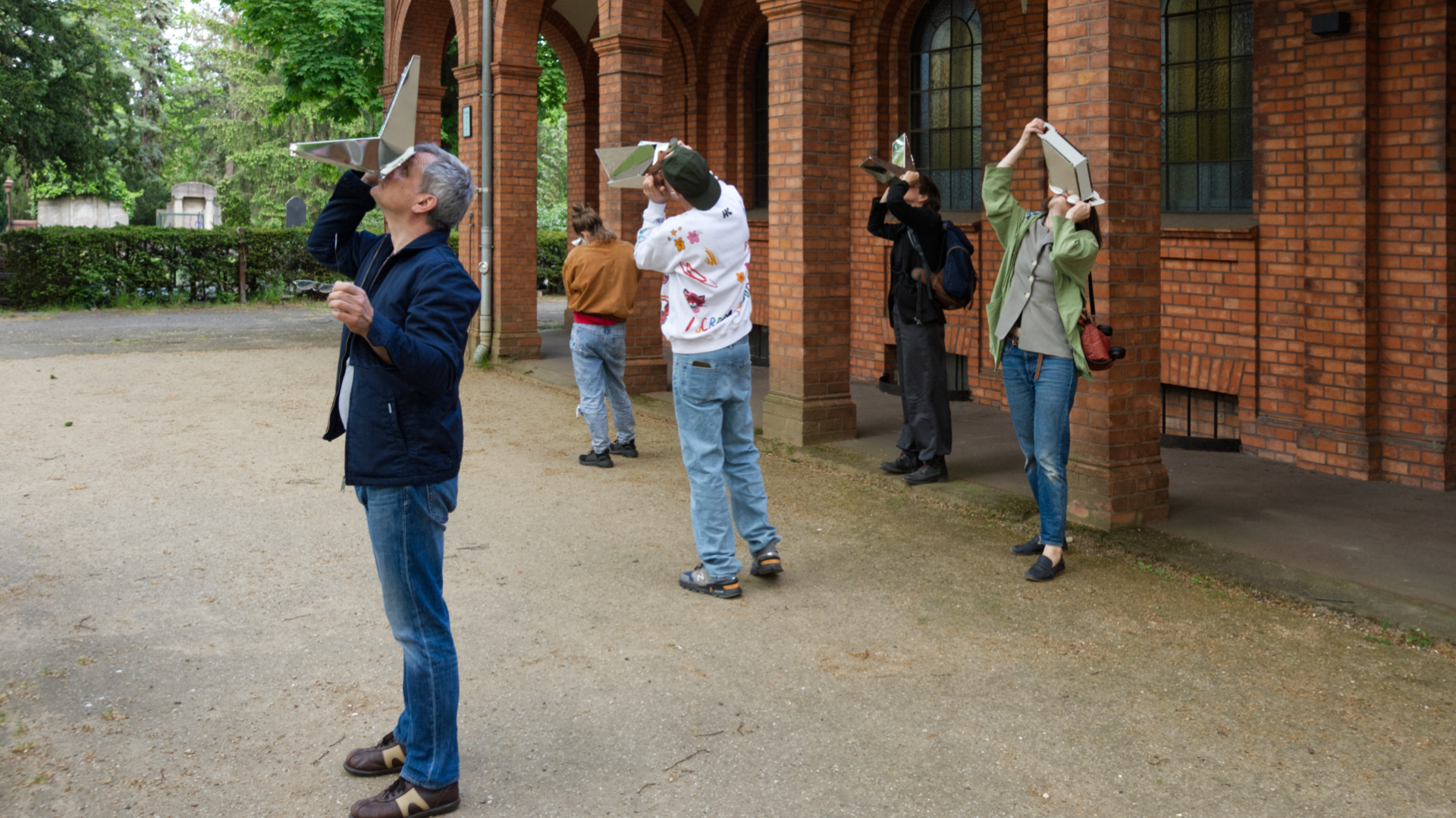 Physical Reality Devices I & II are framing tools, touchable and usable art objects that suggest an intensification of the act of seeing and a questioning of one's own perception. The user becomes a performer, examining they* real environment as if through VR glasses, which is recomposed in the devices. Inside Physical Reality Devices I & II the gaze is redirected and recomposed by mirrors. We see what would not be visible from one's own point of view without these tools.
Lena Gätjens: physical reality device I
without horizon
Lena Gätjens: physical reality device II
don't look back in anger
many thanks to Christina H. Romirer und Kati Jerabek
In the frame of Artist in Residence and the project "digital framework", TRIALE
Gallmannsegg (AT), 07/2022
Supported by Fonds Darstellende Künste with funds from the Federal Government Commissioner for Culture and the Media within the program NEUSTART KULTUR.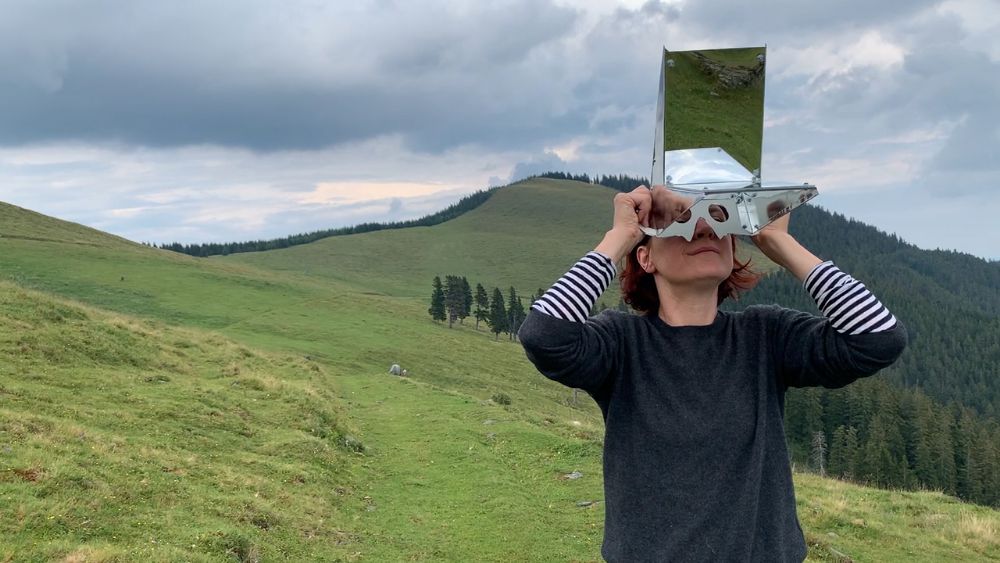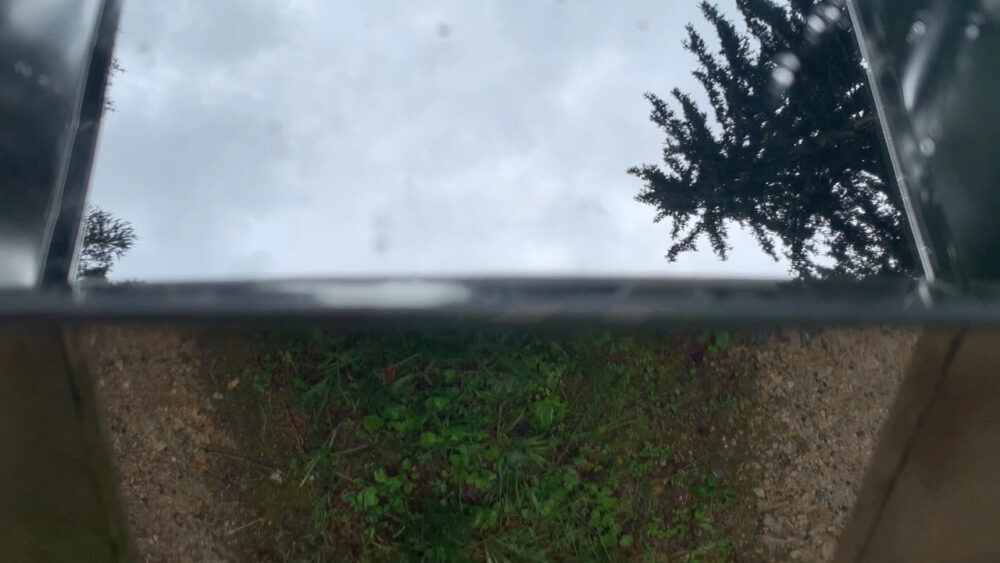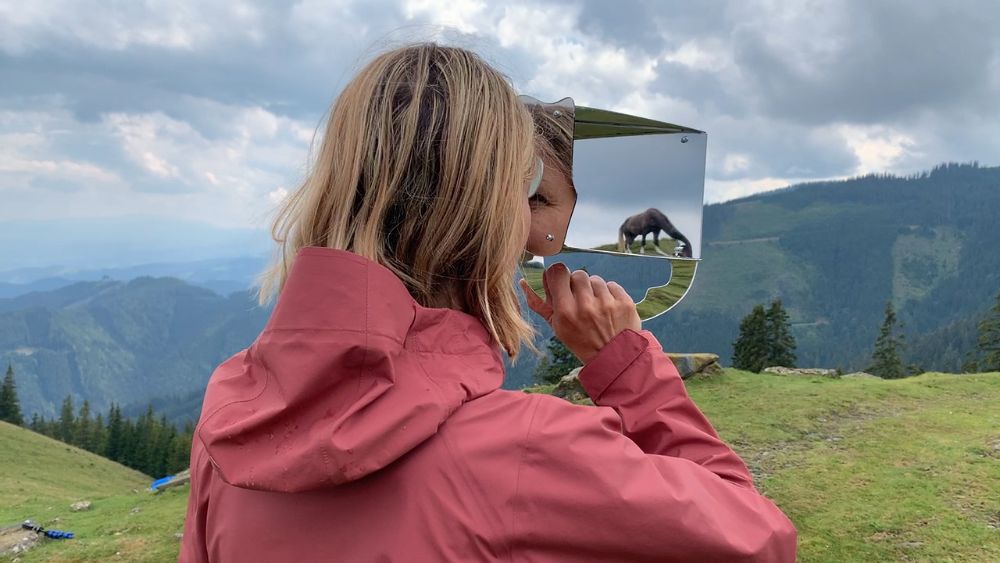 The Replaced
performance, work-in-progress
lighting / stage / costume design
Concept: Eva Nina Lampič, Fabian Löwenbrück — Direction: Eva Nina Lampič — Set & Lights & Costum Design: Lena Gätjens — Sound: Stefan Roigk — Dramaturgy: Fabian Löwenbrück, Nika Švab — Performing: Irem Aydın, Linda Vaher, Rika Weniger  — Production management: Charlotte Rosengarth 
Supported by Fonds Darstellende Künste with funds from the Federal Government Commissioner for Culture and Media within the program NEUSTART KULTUR
Mimetic Desire
participative video- and light installation
Mimetic Desire, with Martti Kaartinen, Video- and Light Installation, Poriginal Gallery, Pori (FI), Foto: Jari Sorjonen
Mimetic Desire is a video artwork, which is presented in a walk-in installation. The video work is designed to be viewed on a smartphone, which is handed out to the handed out to the visitors together with headphones. Visitors are led into a walk-through light installation which is conceived as part of the whole. The viewers become an active participant of the installation work.
Direction, script, editing, sound design and production: Martti Kaartinen (FI)
Light and space installation: Lena Gätjens (DE)
Composer: Rasmus Hedlund (FI)
Sound design and mixing: Pietu Korhonen (FI)
Voice acting: Joy Dietrich (US)
Voice acting: Nicolas Atas (BE)
Producer: Niklas Kullström, Hillstream Pictures (FI)
Funding:
Taike Satakunta – Arts Promotion Center Finland
Gefördert durch die Beauftragte der Bundesregierung für Kultur und Medien im Programm NEUSTART KULTUR Modul D – Digitale Vermittlungsformate
Alfred Kordelin Foundation
Svenska Kulturfonden i Björneborg
premiered 11/'21 at Poriginal Gallery, Pori, Finland
Feldmessung
performance for young audience
live-projections, lighting / stage / costume design, concept
"Feldmessung / Arpentage / Surveying" is a performative project that playfully questions measurement processes and highlights their possible inaccuracies and failures. In order to define spatial boundaries and explore certain laws of fundamental physics, the performers play with their own bodies as well as with working tools. Through acrobatic movements, tensions of ropes, experimentations with lights and the manipulations of objects, the performers develop their own method of measurement and take their audience into a world where science and poetry are intertwined.
Concept, Performance: Claire Terrien
Live Projection, Costumes: Lena Gätjens
Music: Bianca Iannuzzi
Lights and stage: Claire Terrien, Lena Gätjens
Dramaturgy (accompaniment): Barbara Fuchs
Production: Susanne Beyer
Outside Eyes & Ears: Estelle Jullian, Olivia Jenks, Blandine Casen.
A coproduction by Plus Ou Moins Cirque Productions (POMC) & FELD Theater für junges Publikum. Granted by Hauptstadtkulturfonds, Fonds Transfabrik. Supported by Le Cube-Studio Théâtre de Hérisson, Arts Printing House Vilnius (Residenz). Research funded by the Programm #takecare /Fonds Darstellende Künste aus Mitteln der Beauftragten der Bundesregierung für Kultur und Medien & Schloss Bröllin (residency).
Landing on Planet B
exhibition in public space
site-specific kinetic light installation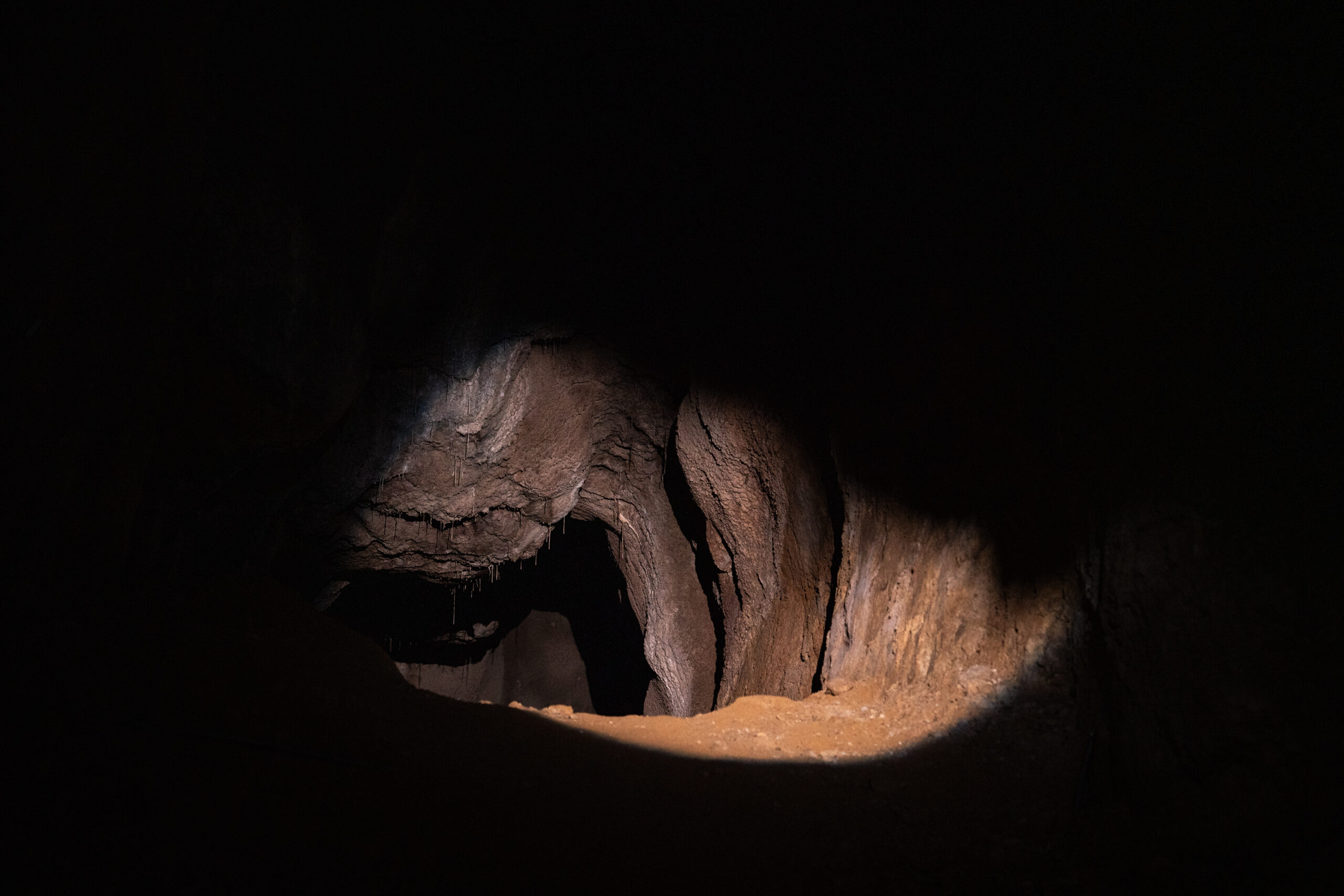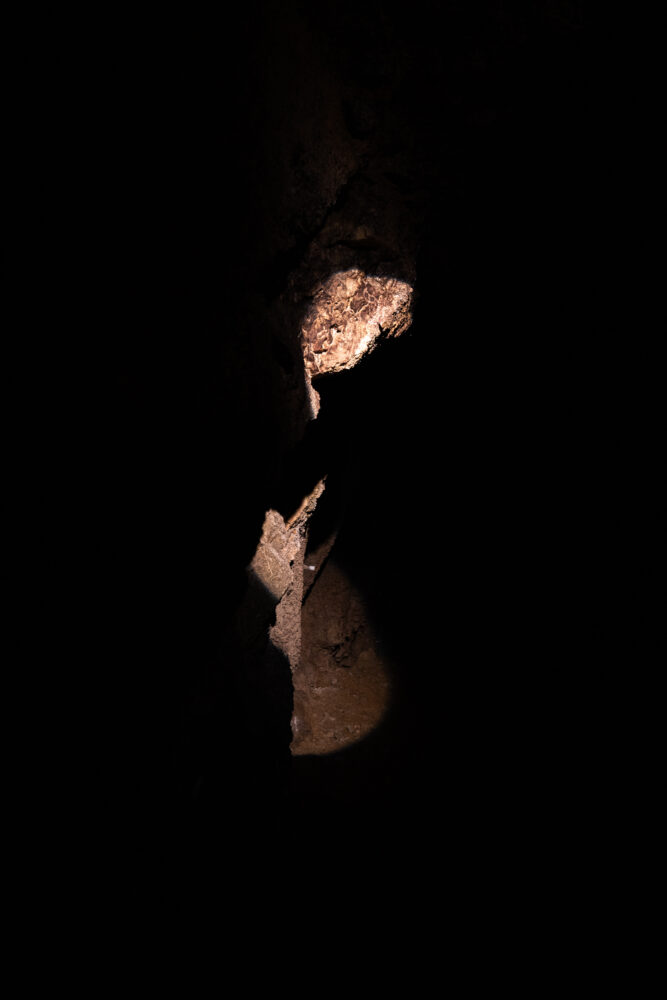 Landing on Planet B
Lena Gätjens & Paul Pritz, Schlossbergstollen, Graz (AT), Solaris group show
kinetic, site-specific installation that reenacts the moment of discovery.
The cone of light travels through the space following a choreography that stages the careful scanning of an unknown place. The grazing light magnifies the details of the topography, projects them onto the surfaces of the room like a shadow play and frames fragments of the space. The idea of an understandable overall space fades into the background.
total dimensions ca. 5m (w) x 5m (h) x 1.5m (d), spotlight, aluminium, stainless steel, motors, rubberbelt, wheels, camera, diverse programmed (arduino)boards, stones
wild access
lighting & costume design
Artistic direction & dance: Beatrix Joyce
Dance: Imola Nagy
Lights & costume: Lena Gätjens
Dramaturgy: Michela Filzi
Production: Patricia Oldenhave
Sound design: Jethro Cooke
Sound: Dan Kinzelman
Audience guides: Paula Bellaguarda, Savina Casarin and Timna Tomiša
Poster: Lucas Mateluna
Film recordings: Goscha Steinhauer and Emanuele Joel Nisi
Performances: 30.10.2021 / 31.10.2021 at 19.00
Duration: approx. 60 minutes
With thanks to Sportamt Pankow and Sportanlage Rennbahnstraße
Funded by Bezirksamt Pankow
potato print dance
lighting design
Dance Performance, Nora Frohmann & Clemens Fellmann
LOFFT – DAS THEATER, Leipzig, Germany, 2021
Potato Print Dance deals with finding ways and solutions to transfer graphics into movement. Self made potato prints with their qualities like form, color and repetition are the basis for choreography, spoken text, light and sound. The performers share and reveal their process and spatial relationship.
Concept & Performance: Nora Frohmann, Clemens Fellmann
Sound: Maike Messer
Light Design: Lena Gätjens
Camera: Albrecht Bloße, Miguel Löhmann
Editing: Leoni Weber
A production by f_man in co-production with Werkstattmacher e.V., in cooperation with LOFFT – DAS THEATER.
Trying to think something new
hand-drawn stop-motion video for projection in public space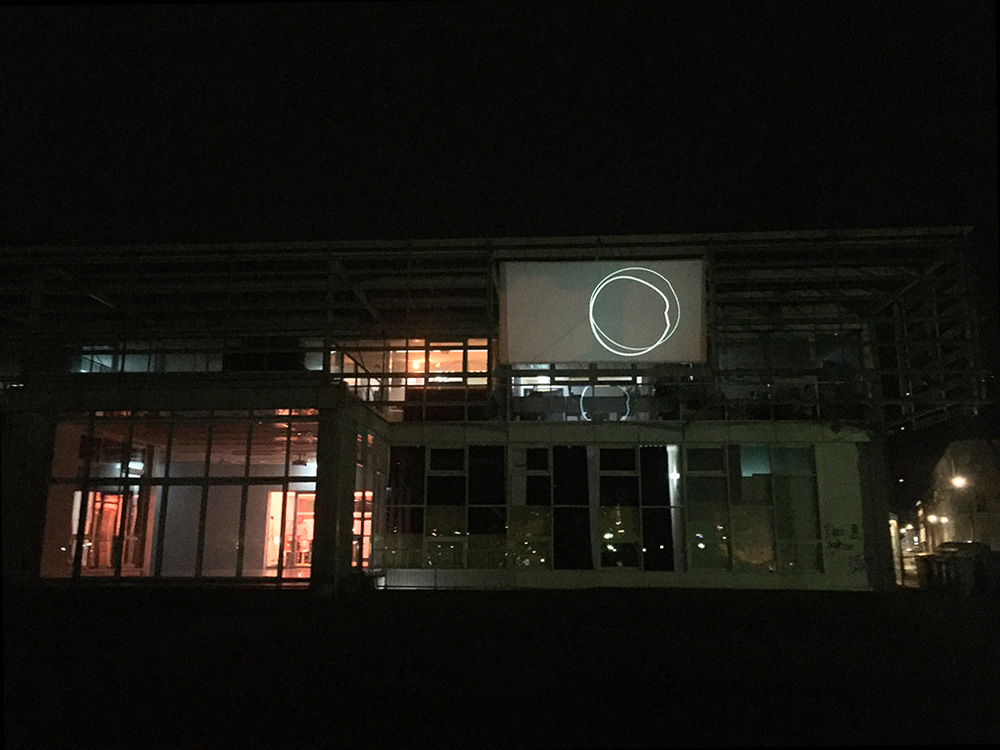 Trying to think something new, stop-motion projection in public space, Forum Stadtpark, Graz, 2020, documentation
marching mirrors
intervention in public space, light art
Marching Mirrors
Intervention in public space in Rauma (FI), for the duration of one month in April, researching the transportation of sunlight; in the frame of Raumars Community Art Residency, with Raumars and RSKL; 2016
six movable sculptures; recycled metal, wood, glass, wheels, concrete; dimensions variable, ca. 50 (W) x 40 (D) x 160 (H) – 75 (W) x 40 D) x 180 (H) cm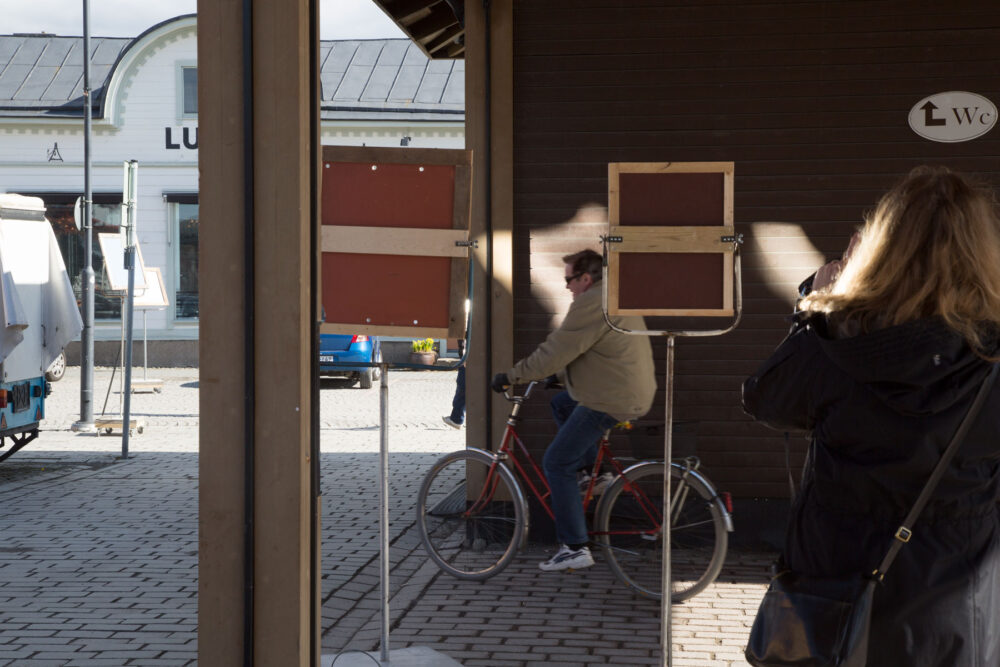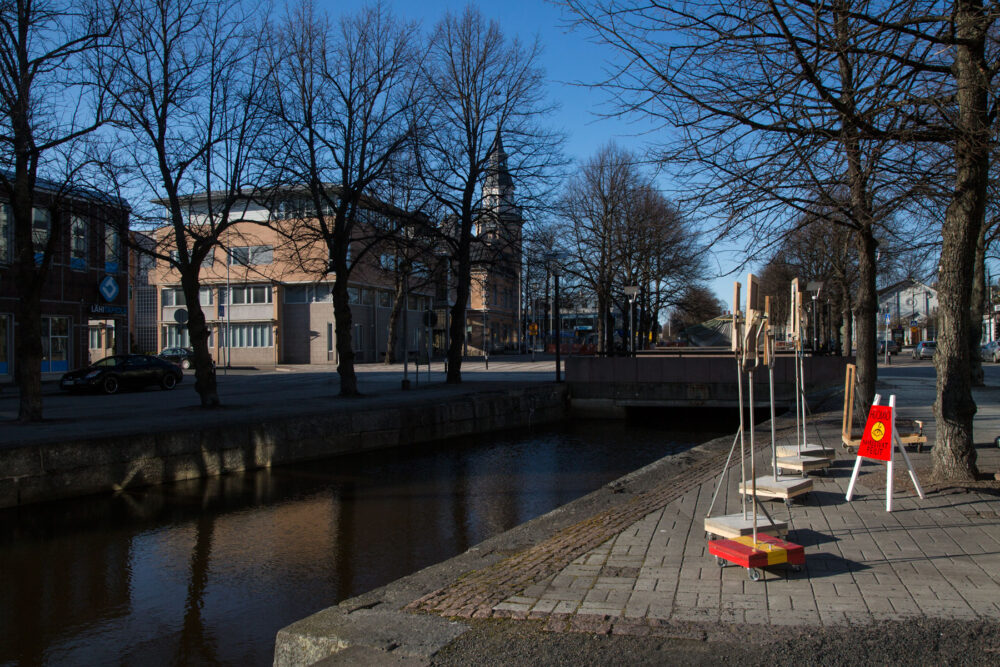 Lena Gätjens
Lena Gätjens works as a lighting, stage and costume designer for independent theatres and film productions, as well as lighting in architectural contexts. As a multidisciplinary (light) artist she works on site-specific installations, art-on-building projects and interventions in public space. Her installations and sculptures are often designed to be touchable or usable. The focus of the often collectively created works lies in the participatory, in the public space, in the intervention in everyday life.
The alternation of micro- and macro-view, which she has internalized as a stage designer, continues in her dealings with light and seeing. Her light installations and objects (often) move on a human scale, want to be approachable, remind us of something we know, or draw on fragments of everyday life.
To artistically fathom the interconnectedness of seeing, perceiving and light is usually the beginning of the site- or material-specific works. The starting point for her works is often an ephemeral moment of perception or seeing, a detail that she extracts and presents as an autonomous sculpture or installation. In reconciling the subjective with the views of others, we practice respect and recognition.The potential of art forms in public space is to affect the everyday life of those who pass by.
collective works
Lena Gätjens works as one 3 of 333 – a light art collective that creates art-in-public and art-in-architecture projects with both daylight and artificial light.
With Plus Ou Moins Cirque Productions (POMC) she develops since 2016 the site specific performance series UNMEASUREMENT.
As Jens of Horst-Jens Olé they sometimes (used to) appear with a mobile telephone booth in the public space that they set up and let it ring to provoke honest and truly anonymous conversations, the TELEFONZELLE.
The world is falling apart, so is my website. This is work-in-progress, I am working on reorganizing it together with schulergätjens.